Founded by Anthony Santiago at the early age of 19 purely out of passion, its now become his life style. Anthony knew he would work on cars since he was a kid reading through DuPont registry in awe of the exotic vehilces displayed.
One by one he collected 1:18 exotic model cars. One DuPont magazine after another he collected every issue. Little did he know that one day he'd be in that same magazine presenting his detail company working on those very cars he had collected.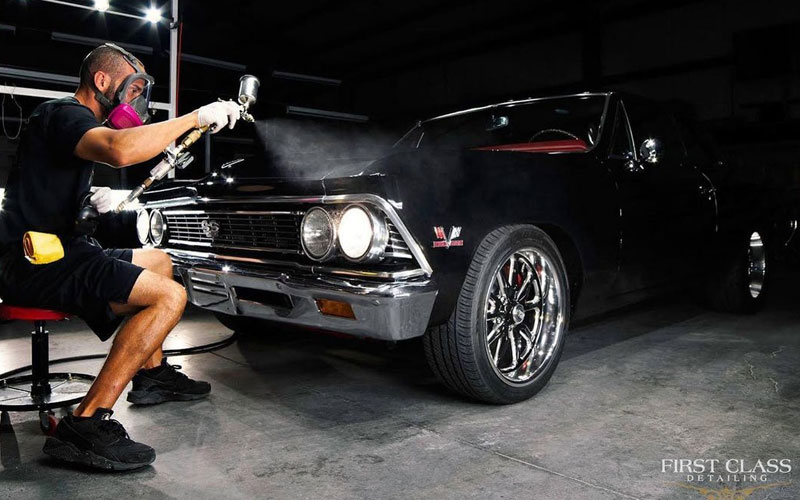 "Whatever you are, be a good one"
"Success is stumbling from failure to failure with no loss of enthusiasm"
"You must expect great things of yourself before you can do them"
To be better everyday. I know day by day I'm able to improve by 1% and for me that's a big motivating factor. I don't think I'll ever be as good as I can be, the journey is too fun to set an end mark. I just know for now I need to enjoy what I'm doing and lead my team appropriately. The continuing cohesion of my small team day by day, 1% by 1% returns 10 fold. My family and team need me to be 1% more of a man daily.
What are you most proud of?
At the moment, my kids. Im a new dad! I've always been motivated. Don't get me wrong, I've wanted to close up shop multiple times out of frustration over the last 15 years. But I knew I had to stay motivated and stay the course to see what I'm capable of. What's funny to think is that I had no clue what motivation was until I looked into my daughters eyes.
What are you the best at?
Lol! Sadly, detailing. If you said there was an art to vacuuming a car, spraying products, or laying stickers you'd sound crazy. But in fact I really think there is. The way One moves with equipment / machinery, pulls and stretches film, or applies coatings / chemicals can really look fluid. The articulation and dexterity one has to posses in order to do this effortlessly 15 years later with no physical pain is incredible. One day I wish to be as good of a husband / father as I've become a detailer.
What are you most thankful for?
My wife, bar none! Without her I wouldn't be the man I am today. I wouldn't be able to have the introspect and awareness I have. Over the last 9 years she's really brought things to my attention that I never would have evaluated. She's contributed greatly to helping me further develop myself.
How do you feel about the industry?
Well, I love cars! The detail/film industry is hard on you. A lot of people come and go. It's an over saturated market. I think the auto industry as a whole is a day late and a dollar short. Many of us struggle to run our shops, many of us undercharge. But I think over the last 5 years or so there's been more of a shift towards professionalism which is good to see. I think most of us let our passion and ego get in the way. We love what we do, we want to be the best at what we do. But we all often forget that we run a business and business is tough! I wouldn't change it though. 15 years has flown by, why? Because I love cool cars and the relationships you build in this type of community.